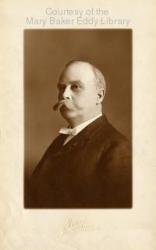 P00559
Albert B. Dorman (1855-1914) was born in North Brookfield, Massachusetts, and died in Winthrop, Massachusetts. He was a student of Mary Baker Eddy's, completing the Primary class (1883) and Normal class (1885). He joined the Christian Scientist Association in November 1884, and in early 1885, he united with the Church of Christ (Scientist). In 1884, Dorman organized the Worcester Metaphysical Institute. He created its official publication,
The Messenger of Truth
, in 1886 and published it until 1888. In the spring of 1888, Dorman and a group of students caused a split within the Christian Science Association over its response to the Abby Corner court case. In April 1889, he was dismissed from the Church and, in May, withdrew from the Christian Scientist Association. After leaving the Christian Science movement, Dorman moved to Boston and studied medicine at College of Physicians and Surgeons, graduating in 1892. He then moved to Winthrop where he was a practicing physician and member of the town's Board of Health.
See more letters.